CONSIDERATIONS
A GREAT GIFT IDEA !, BUT READ
TO THE BOTTOM !!!
THIS MAY BE A ONE TIME CLAIM STAKE FOR YOURSELF
OR AS A GIFT TO A FAMILY MEMBER OR A FRIEND.
SO ASK YOURSELF THIS QUESTION: "DO I WANT
ONLY 1, 3, or 10 ACRES?" BECAUSE OF THE
ECONOMICAL PRICE YOU MIGHT WANT TO CONSIDER
A CERTIFICATE OF CLAIM FOR A LARGER TRACK OF

LUNAR LAND NOW.
OR PERHAPS THIS QUESTION: "I SEE WHERE I
WANT TO STAKE MY CLAIM. IF I DON'T ACT NOW,
WILL SOMEONE ELSE GET THIS PRIME SPOT I
HAVE SELECTED?" WE WILL REGISTER YOUR CLAIM!
"I CAN HANG THIS BEAUTIFUL LAND CLAIM
CERTIFICATE ON MY WALL. IT WILL BE
A NICE MEMENTO TO LOOK AT OR TO
SHOW MY FRIENDS."
IT IS VERY IMPORTANT TO CONSIDER
YOUR MOTIVE AND INTENTION BEFORE
STAKING YOUR CLAIM. WHY CLAIM LUNAR
LAND? SEVERAL REASONS HAVE ALREADY
BEEN MENTIONED SUCH AS: DEVELOPMENT,
EXPERIMENTATION, FUTURE EARTH
SETTLEMENTS AND COLONIZATION. THERE
IS A DISPUTE OVER MOON LAND, BUT AN
ACT BEFORE CONGRESS TO SETTLE IT.
The colors of the Claim CERTIFICATE margin
may vary with the sizes of the land parcels.
(This example is in low resolution)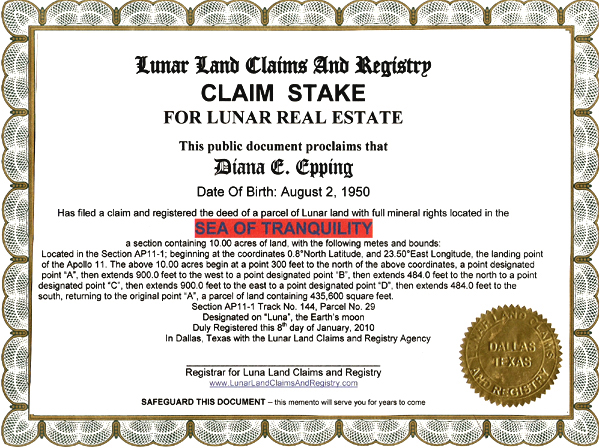 BELOW ARE 10 LINKS TO ARTICLES THAT MIGHT BE OF INTEREST TO YOU.....

CLICK ON THEM TO READ MORE
Nasa is one step closer to Moon Colony
The Moon: Resources, future Development & Colonization
Water found on moon could lead to lunar colonies
Nasa Gathering Moon Colonization Ideas
NASA wants to Mine moon water for Colonies
Moon Hole might be Suitable for a Colony
http://mayanarchaeology.tripod.com/webonmediacontents/1493645.mp3|amclassical_moonlight_sonata_movement_1